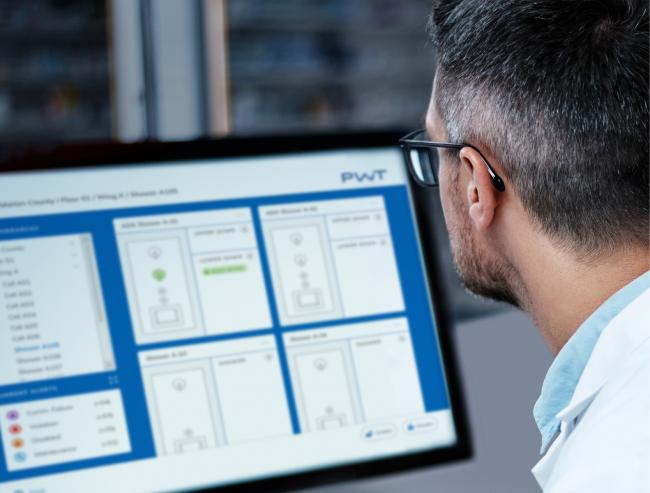 Programmed Water Technologies
Equal parts water control and conservation.
The most advanced way to control and conserve water
PWT is a system that monitors and controls water usage in institutional restrooms. It is designed to minimize water abuse by controlling the length of showers and the number of flushes in a given time period through PWT's highly configurable components.
What you can do with PWT
Reduced Water Usage
Visualize and control every ounce of water that flows through your facility.
Reduce Cost
Adjust water usage for every fixture and start saving on water bills.
Reduce Risk
All our PWT products are designed to minimize vandalism and tampering.
Perfect for any setting
Control every facet of your water usage for maximum efficiency across all your fixtures. Our water management systems make it easy with pre-set conservation standards and timing options that help deter water misuse and vandalism where common.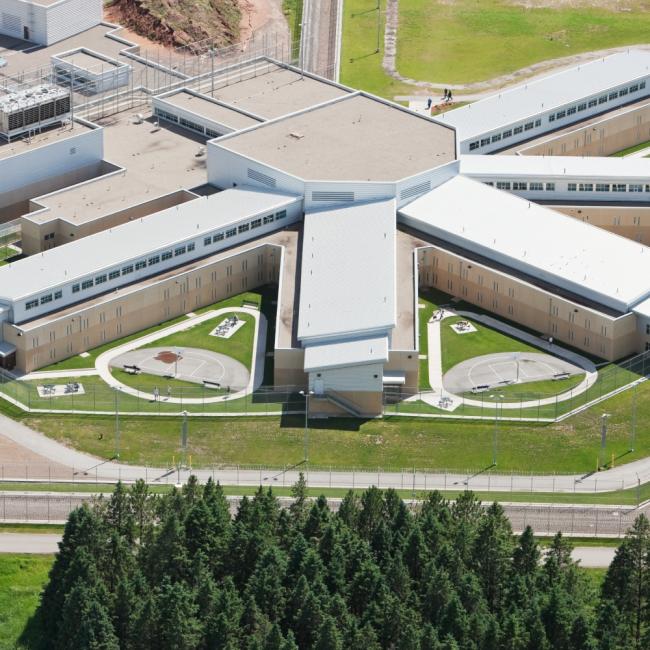 Prisons and Correctional Facilities

Our tamper-resistant designs keep your facilities clean while keeping your inmates safe.

Behavioral Health Facilities

Hospitals

Educational Facilities

Sport Facilities

More Applications
PWT Components
Choose from a variety of networkable components that offer different levels of security, control, and scalability. We can work with you to create a system that meets your needs — from control of just toilet activations to a complete solution monitored and managed by the PWT Management Console software.
Front-of-wall Components
Behind-the-wall Components
Management Console
Shower Line Components
Toilet Line Components
Control the flow like never before
Our user-friendly PWT System software gives you access to every fixture and the data to keep them running smoothly.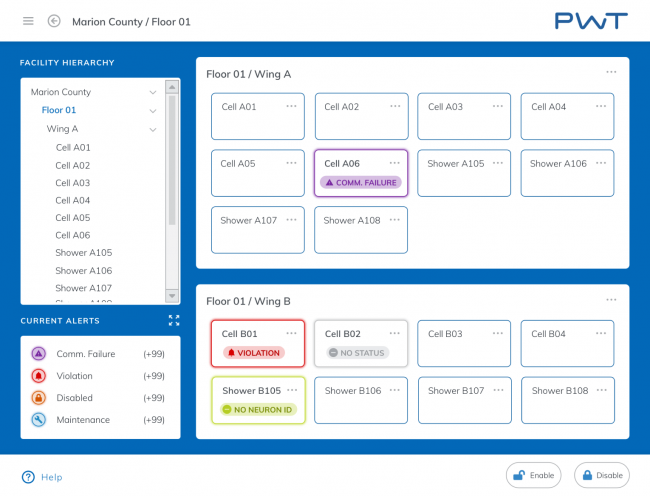 Manage your facility
Review water usage data and product status in real-time from our easy-to-use interface. Our management software puts you in control of a wide array of variables.
Length of shower time
Number of toilet activations
Hourly limits on flushometer activations
Track system alerts
Use our management software to review system alerts in real time to curtail vandalism and misuse. And if issues arise that require shutting off the water, our interface allows for localized valve closures at the touch of a button.
Address system alerts faster
Control the flow of every fixture
View report history per device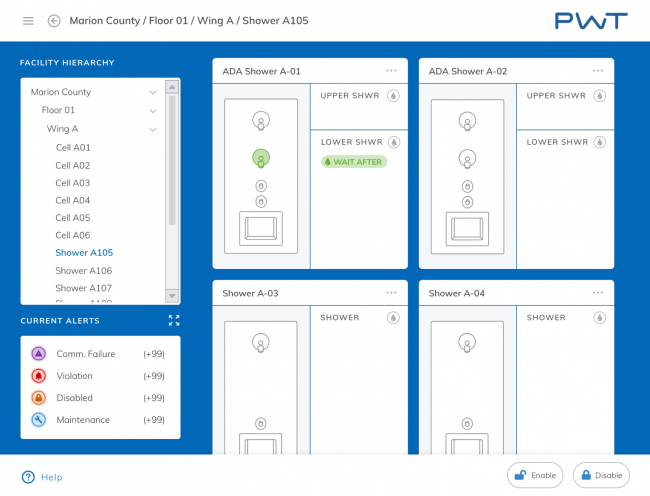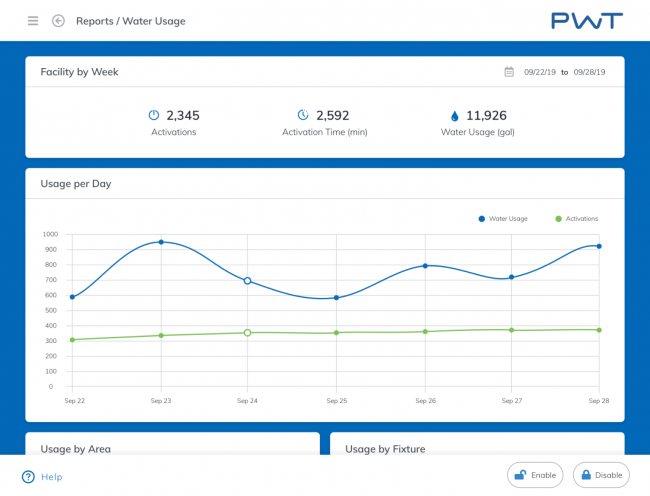 View and create reports
Get smart about your water usage with all the details you need to refine how your facility interacts with your fixtures. Our water management software offers granular data to track usage over time so you have the insights you need to adjust settings as required.
Generate comprehensive water usage reports
Modify reports to see usage by location, fixture, or time
Get ahead of long-term usage issues before they become expensive
Big projects can see up to 35% water savings
Facilities outfitted with Sloan's PWT Systems report an average reduction in water usage of 35%. Using our software, most facilities see a 3- to 5-year return on investment.
Water Consumption (gallons) over 4 year period
Wastewater Flow (gallons) over 4 year period
Field tested and proven to work at any scale
Our PWT system is easily scalable to any size application so you can efficiently manage your facility's fixtures and their data.
Calculate your savings
Find out how much water you facility can save using PWT Components with our sustainability calculator. View calculator
PWT, a complete solution for managed water systems.
Learn how PWT can help you take control of the water in your facility.