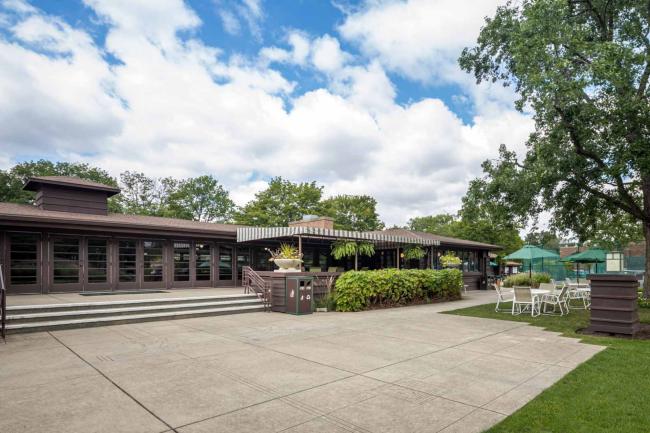 River Forest, IL
River Forest Tennis Club
Located in the beautiful village of River Forest, Ill., the River Forest Tennis Club (RFTC) offers its members 10 excellent clay courts for tennis, a collegiate-size swimming pool, and a wide expanse of lawn for play, parties, and events.
Since 1905, RFTC's Frank Lloyd Wright-designed clubhouse has been a gathering spot for summer dinners, entertainment, and more. Men's and women's locker rooms were installed at the clubhouse in 1968, and after over 50 years of use, RFTC knew it needed to undergo significant renovations to each, starting with the men's locker room in 2020.

As renovations began, RFTC was faced with the challenge of specifying contemporary restroom fixtures while also honoring the historic nature of the club and Wright's original design aesthetic. Sloan's collection of faucets, flushometers, water closets, and more—as well as its strong Chicago-area roots—proved to be the perfect match for RFTC's needs, offering forward-thinking innovation and sustainable design that pays tribute to the club's history and Wright's vision.
"Sloan was the perfect fit for this project. From selecting the fixtures to making sure they were delivered on time, I can't say enough positive things. I couldn't imagine a better partnership."