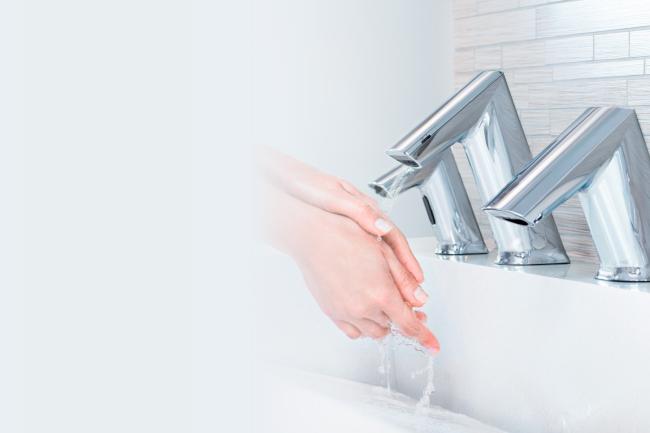 AER-DEC® Integrated Sink
Soap. Rinse. Dry. All three steps without taking any.
Step up to the future of sustainable restroom design
The AER-DEC is the perfect innovation for any high-end washroom. Soap dispenser, faucet, hand dryer, and sink basin all designed to work together as one beautiful, touch-free, hygienic, highly efficient system.
Touch-free soap dispenser

Designed to work hand-in-hand with the AER-DEC Integrated Sink, these soap dispensers promote cleanliness at every level.

Sensor-activated faucet

AER-DEC features the revolutionary BASYS® sensor-activated faucets from Sloan®. The faucet is field researched and specifically engineered to meet the demands of the commercial plumbing industry.

High-speed hand dryer

Finally a hand dryer where you need it. AER-DEC brings the power and innovation of hand dryers off the wall and right to your hands. By doing so, it eliminates water on the floor caused by dripping hands and wet paper towels.
It all starts with the AirBasin
Each component of the AER-DEC is designed to create a fully integrated system. The key to that integration is the patent-pending AirBasin that controls air and water flow to eliminate backsplash and updraft.
Airflow Redirection
The AER-DEC experience is made possible by innovative air dams that redirect air and water to eliminate backsplash and updraft.
Configurations
Basins can be ordered in custom widths or in standard increments of 30, 60, 90 or 120 inches. Build your washroom around the AER-DEC, or the AER-DEC around your existing washroom. The basin can be custom designed to accommodate your specific needs. Basins can be centered or offset based on traffic flow or space restrictions. All basins are 23.5 inches deep and 5 inches thick and can be trough style or include individual stations. The consoles meet ADA requirements if properly installed.
Materials & Colors
The AER-DEC can be made from your choice of 300+ colors of Corian® Solid Surface, Corian Quartz, Silestone, or Caesarstone materials.
Mounting
Whether you want your basin to float, fit into an alcove, or stand on its own, it is all possible with the AER-DEC Integrated Sink.
Lighting
The AER-DEC can use LED technology to light the space in a way that matches your design. At the touch of a remote, change the color to match your brand, the season or your local team as they prepare for the big game.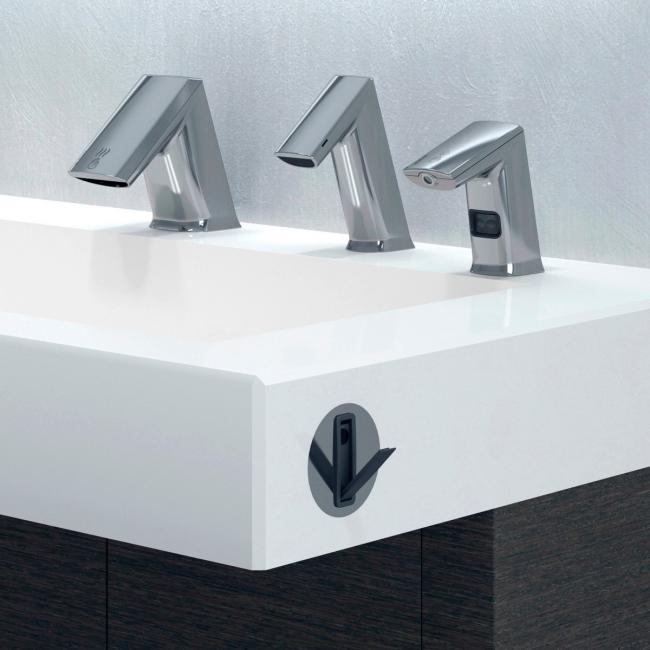 Straight, beveled, and rounded edge options.
With AER-DEC, the design is in the detail. Elevate your restroom experience and customize your sink edges with more options now than ever. Pair your edge option with an optional bag hook, available in light gray or dark gray colors.
Updated option for easier maintenance.
The AER-DEC's standard stainless enclosure has been upgraded to a hold-open design. Maintenance is easier than ever with the new design. The hold-open doors are magnetized for easy access and stay open when you need. The angled enclosure keeps your restroom sleek in design and functionality.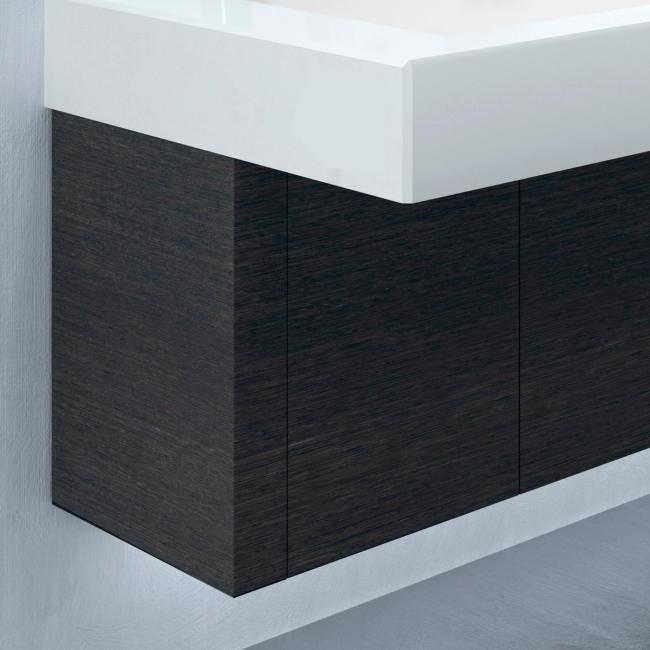 Available in stainless or laminated finishes.
Depart from the standard and choose a vertical enclosure with your AER-DEC. The vertical enclosure comes in stainless hold-open or laminated cabinet style doors. Choose from over 150+ laminate options for additional design freedom.
Learn more about the AER-DEC
View the brochure or contact Sloan for more information.