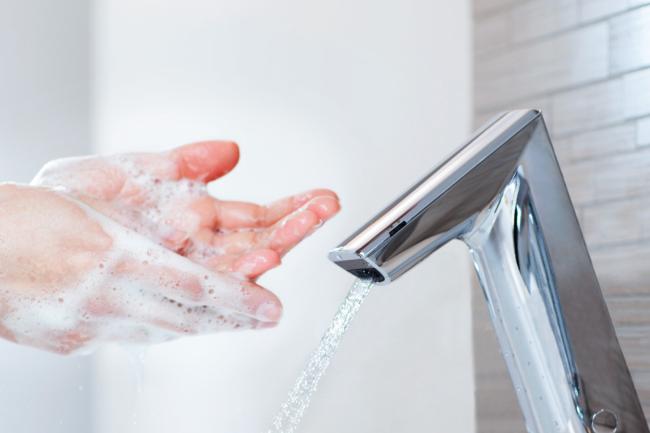 BASYS®
Any Application. Any Environment.
Plumbers talked. We listened.
Backed by a century of experience and proven Sloan technologies, BASYS® delivers a revolutionary approach to sensor faucets that meets the demands of the commercial plumbing industry. Fueled by two years of field research and in-depth interviews with architects, engineers and plumbers, BASYS® has the strength and versatility to meet the needs of any application or environment.
Redefining Efficiency + User Experience.
BASYS® is centered on a robust system of shared features and components. This fundamentally different approach aims to revolutionize the commercial plumbing industry by streamlining service and advancing the user experience.
One Tool Service
A single allen wrench provides access to all key components. No additional tools are required.
Automatic Shut-off
One twist of the solenoid caddy shuts off water supply to facilitate replacing or cleaning the filter.
Visible Diagnostics
Individual external diagnostic LEDs indicate the health and status of key components.
Shared Parts
Interchangeability of components simplifies orders, upgrades, repairs and maintenance.
Power Options
Multiple power harvesting options are available to suit the unique needs of each environment.
Line Purge
All models include a line purge function to eliminate the stagnant water that can lead to bacterial growth.
Flow Rates
Three spray modules – full stream aerated, laminar and low flow multi-laminar – provide options to adjust flow rate and feel of water.
Sensing
Active Infrared is the standard on all models. Capacitance (offered on some models) provides extra protection against vandalism.
Sleep Mode
With a touch, staff can temporarily turn off the water supply in order to clean the sink area without activating water flow.
Body Types
Multiple body types offer a variety of functional and aesthetic options.
Tailor it to Fit
BASYS® has a robust range of features, options and user enhancements that can be customized to fit the needs of any application. Configurability, combined with interchangeable componentry, delivers a truly modular approach that also streamlines the time and costs associated with service and maintenance throughout the life of the product.
Sensing
There are two different kinds of sensing technologies available.
Active Infrared (IR)
Infrared sensing is the standard on all BASYS models. When a user's hands reflect the invisible light beam, the faucet knows to begin the flow of water. Infrared models are designed to provide easy, above-deck access to key components, and offer additional user enhancements.
Key Features
Individual external diagnostic LEDs.
All key components – battery, valve caddy and solenoid – are easily accessible for above-deck service.
Can accommodate or upgrade to solar and / or LCD. Adjustable time-out settings.
Available with mechanical mixer, integral to spout. Available on all models.
Capacitance (C)
Capacitance sensing utilizes the human body's own natural conductivity. When the faucet senses a hand, it starts the flow of water. There is no sensor window and critical components are protected in a watertight, below-deck box. An excellent choice for high-use environments, or when vandalism is a concern.
Key Features
Individual external diagnostic LEDs.
Below-deck components protected in a watertight box. Only two keyed wire connections located between the spout and control module.
Self-adapting sensing.
Automatic time-out based on flow rate.
Available on Low and Low Integrated Base models.
Crowns
Interchangeable crowns help tailor a product to fit the unique needs of a particular installation. Crowns are interchangeable with models that utilize the same method of sensing.
Power
A variety of power choices help make the most of available resources. All power supply options have battery-powered back-up for reliable service and operation.
Battery
A good option for retrofit environments or installations where hardwiring is not an option. (IR/C)
Hardwired
Ideal for new construction, because it eliminates regular use of disposable batteries. However, all hardwired faucets have back-up battery power. (IR/C)
Solar
An excellent choice to passively harvest power without adding parts to the water stream. Our solar panels are able to harvest power from both artificial and natural sources. (IR)
Turbine
Investments and advances in our turbine technology allow for optimized performance, even at a flow rate of 0.5 gpm. (IR/C)
Learn more about the BASYS® Faucets
View the sell sheet or get more product information.